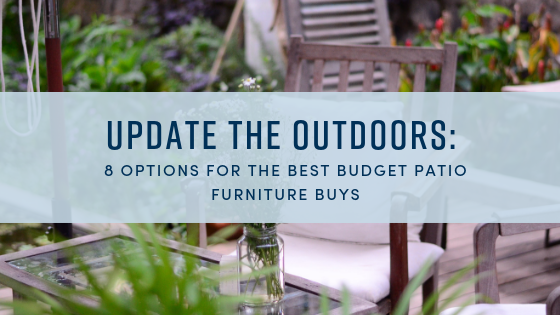 Now that the weather is warming up, having a functioning patio space should be at the top of the priority list as it can feel like a second living room. Decorating a space can seem daunting when thinking about all the components that go into it. Whether it's pillows, chairs, or lighting, there are options that won't break the bank and make for an easy decorating experience.
Option 1: Ikea
If there is one thing millennials love, it's Netflix. But if there are TWO things, IKEA definitely makes the list. While not every piece here will stand up to the elements forever, it definitely meets the budget and style criteria. Can you really have a list of budget-friendly furniture places without including Ikea?
Option 2: World Market
The world market is the perfect destination for quirky, cute, and fun furniture. Whether your style reflects neutrals tones or bright colors, World Market offers plenty of options.
Option 3: Target
Target is a no-brainer. Their user-friendly website has you wanting to buy way more than what you originally intended. With all their trendy pieces at affordable prices, you'll end up purchasing way more than you planned on purchasing.
Option 4: West Elm
West Elm has everything from rugs and curtains to pillows and decor and while one may not consider West Elm "budget friendly", they often times offer coupons for their trendy looking pieces.
Option 5: CB2
If you love Crate and Barrel, you'll love CB2. While they don't have a storefront in Georgia, they have a strong online presence. Browse their website for pieces of all sizes that are sure to fit any patio space.
Option 6: Lowe's
Lowe's actually has it all. If you're there to purchase plants, let me convince you into taking a look at their patio furniture. You can't beat a nice set of foldable chairs.
Option 7: All Modern
It's all in the name! All Modern offers modern furniture for any space at great prices. Check their site during a sale and you'll be adding to your cart in no time.
Option 8: Wayfair
Great options for any type of furniture and decor preferences. Did you know they are opening their first brick-and-mortar store? Yep!